Angers
Place Pierre Semard
Beziers
Avenue President Wilson
Bordeaux
Quartier de la gare Saint Jean : Belcier, quai de paludate
Quartier Saint-Rémi : rue du pont de la mousque, rue courbin
Les quinconces
Passage Birly, rue de Ruat : massages
Rue du Pont de la Mousque
Caen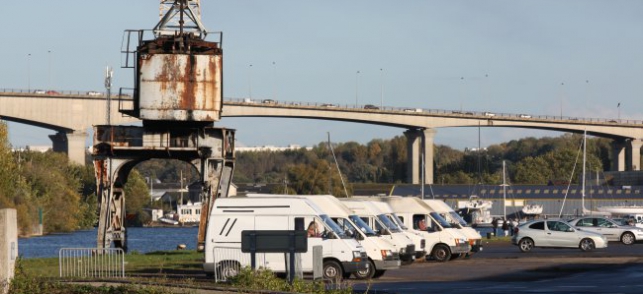 The traditional area of Place Saint Saveur appears to have been displaced to other areas, French workers appear to have been largely displaced by foreign workers. Africans on cours Montalivet (in their vans, see image), Romanians on quai de Juillet and la promenade de Madame de Sévigné, the banks of the River Orne in general, or quai Hamelin.
Les prostituées se sont déplacées de l'autre côté de l'Orne, sur la Presqu'île de Caen. "En matière de sécurité, être ici oùle long du cours Montalivet ça ne change rien", estime une prostituée. "Nous avons de bons rapports avec la police et nous nous sentons en sécurité ici. Notre transfert s'est déroulé sans problème."
Earlier they talked of 'torpedo-prostitutes' who lived in Paris and travelled up to Caen for the day. Apparently more women are now actually resident in the area.

Cannes
La croisettte
Le Havre
Small and cheap but not of a particularly 'high standard' as such.
The center of gravity seems to have shifted slightly. Previously it was concentrated on the rue LeSueur, adjacent to place Danton with one or two women on the rue Laperouse. Now there seems to be one or two (at most) on the rue LaSueur, one or two on the rue Laperouse, and a couple on rue Haubry (which crosses rue Laperouse).
It is also quite strange in not 'opening' until about 1400 and seeming to close down around 1800. There appears to be no activity during the night at all.
The view shows rue Laperouse where the 'center of activity' is close to the bar shown on the corner.
Lille
Quartier Peuple Belge (Place de Gand, Rue de Courtrai, Place aux Bleuets)

Enquête : la prostitution dans le Vieux-Lille by France3Nord-Pas-de-Calais

Prostitution dans le Vieux-Lille : le ras-le... by TNTWeo
La Madeleine, just to the north of Vieux-Lille
Limoges
Champ de Juillet, opposite the railway station
Lyon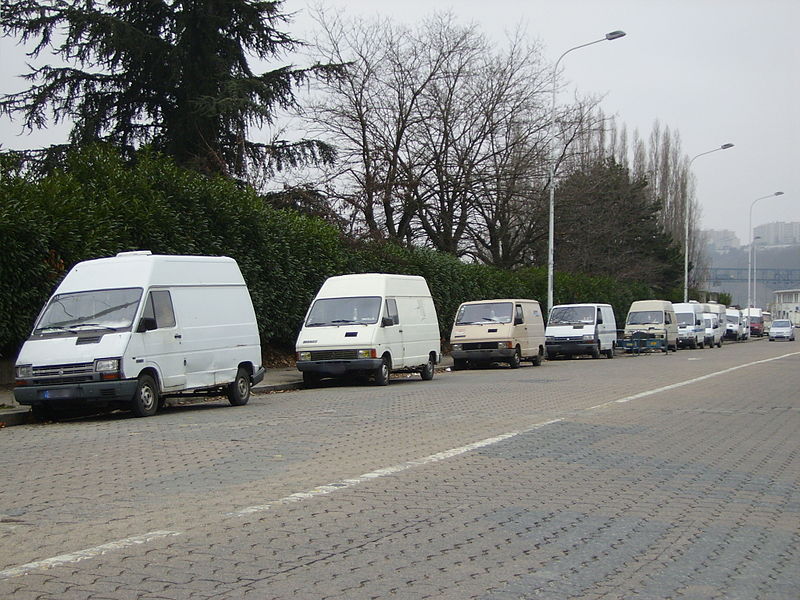 near Gare de Perrache (image from Wikipedia)

river "quais" (Rhone and Saone).
Mantes-la-Jolie
Quartier du Val Fourré
Marseille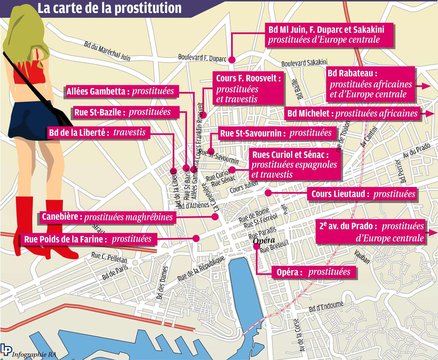 <!Rue Thubaneau , Bd du Prado , Rue Curiol >
Montpellier
Boulevard de Strasbourg
Nancy
rue de la source
Nantes
Rue Paul Bellamy
Quai de la Fosse
Rue de Strasbourg
Rue de Talensac
Nice
Promenade des Anglais
rue de France
Paris
The rue St Denis is the best known area - roughly speaking that section between rue Reaumur and boulevard Saint Denis (the latter marked by a prominent arch). This includes the side streets of rue Blondel and rue de Ponceau.
'Aux Belles Poules', rue Blondel 32, is a former brothel that has retained its interior (consequently it has had a preservation order slapped on it).
On the boulevard St Denis, between rue St Denis and boulevard de Sebastopol, there are often a number of Chinese women. In the past, they operated from rooms about 5 minutes away for which an extra 30 euro was requested. Nowadays, you might be expected to take a metro ride out as far as Charonne, or similar (if they are gathering on both sides of the boulevard, then the latter option is probably the one available)
There are often one or two women further down rue St Denis between rue Reaumur and rue Turbigo.
Often there are a few older women right at the bottom of the Rue St. Denis, around the rue des Lombards.
Many sex shops exist on the 'middle' section of rue St Denis, i.e. south of the rue Reaumur. However one does exists at the top of the street (just down from the Arch). The Club 88 on the 'middle section' of rue St. Denis is a large establishment of a new type to the city, offering more 'services' than the usual sex shop. The Sexodrome in Pigalle is a similar establishment
If you are interested in a short history of the rue St Denis area, go here.
How to Get There : Metro Stations Strasbourg-St Denis (the arch end) or Sebastopol Reaumur (the rue Reaumur end)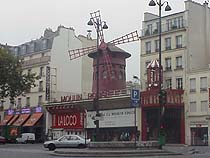 The Pigalle area is known for the Moulin Rouge (see image) and its past, although today is probably very tame in comparison. However there is an interesting Museum of Eroticism.

The rue de Budapest close to gare St. Lazare, appears to have ceased its activities.
The bois de Boulogne and porte de Vincennes are well-known areas for working from vans.
rue de Seze, back of the Madeleine
<!External Links:>
Rouen
Rue St Jacques, in the evening. Possibly spreading into the boulevard des Belges
Further details here
Strasbourg
Avenue de la Forêt-Noire
Route du Rhin
Quai des Alpes
Quai Louis-Pasteur
Boulevard de Lyon Quartier de la Gare
Toulouse
Rue Bayard
Quartier du Canal
Boulevard de Strasbourg
Troyes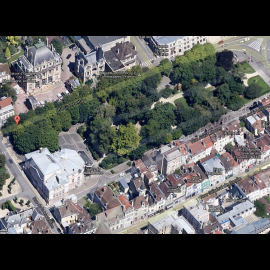 boulevard Gambetta, rue Argence, rue Paul Dubois
La Jonquera (Espana)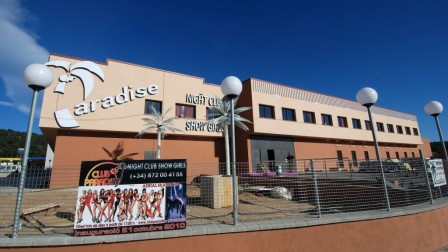 Town on the French border
Le Paradise
two other brothels under same ownership at at Melianta, near Banyoles (south of Figueres) and at Mont-Ras near Palafrugell on the Costa Brava.
In 'Le Paradise', each client has to buy an obligatory drink (alcoholic 12€ , soft 10€ ) and has to pay 5€ for a disposable sheet, a condom, a lubricant and a towel.