Barcelona
Carrer de Sant Ramon / Carrer del Marqués de Barberà
La Jonquera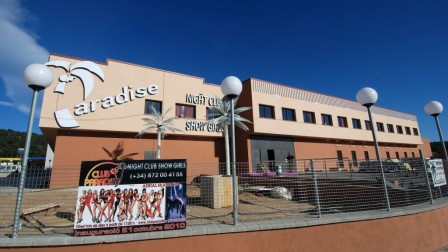 Town on the French border
Le Paradise
two other brothels under same ownership at at Melianta, near Banyoles (south of Figueres) and at Mont-Ras near Palafrugell on the Costa Brava.
In 'Le Paradise', each client has to buy an obligatory drink (alcoholic 12€ , soft 10€ ) and has to pay 5€ for a disposable sheet, a condom, a lubricant and a towel.

Mallorca / Majorca
The Mustang-Ranch in Palma is announced by a neon sign visible from the motorway, the Via Cintura.. Opening times : 1900-0500 wekdays and 1000-0500 weekends. Credit cards are accepted and they have their own parking area.